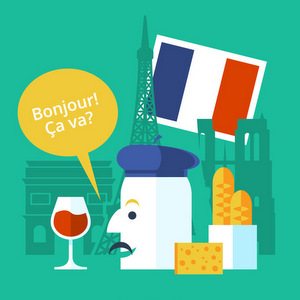 Until about 20 years ago, French was considered the most important foreign language for English speakers to learn. But Spanish surpassed French in the United States sometime in the '90s, and in recent years, as the economies of the BRIC countries (Brazil, Russia, India, China) have expanded, so has the perceived importance of their languages, toppling French from its lofty pedestal. With the growth of China as a superpower, Mandarin is sometimes considered the new global language of influence.
Is French still important?
English journalist Jeremy Paxman and American linguist John McWhorter made instant headlines when they proclaimed, in 2016 and 2014, respectively, that French is "bad for you" and "useless"[1] and "a distinctly low priority"[2]. Response from Francophones and Francophiles was swift and furious.
The facts are these: French is an official language in 29 countries and of the United Nations, European Union, International Olympic Committee, International Red Cross, and dozens of other organizations. It's currently spoken by nearly 230 million people[3], and investment bank Natixis projects[4] that by 2050, French will be spoken by at least 750 million, possibly even surpassing Chinese and English to become the most spoken language in the world.
Moreover, an ingenious study by researchers at MIT[5] shows that French remains one of the most influential languages in the world. The researches created three maps of global language networks to show relationships between different languages:
Book translations: connections between source and target languages
Twitter: connections between the two languages spoken by millions of bilingual users
Wikipedia: connections between edits made by multilinguals
While English was revealed as the most influential language in all three maps, French is also prominent, especially in regard to book translations.
So, is French still important? If the above facts don't speak for themselves, perhaps there's something else going on. To his credit, McWhorter is quick to assert that bilingual education is invaluable for immigrant kids, but claims that the perceived importance of French above other languages is nothing more than a holdover of a "class marker" akin to classical music and snidely calls French knowledge a criterion for "what used to be called 'people of quality.' "
For his part, Paxman isn't arguing just against French, but seems in fact to be fighting for monolingualism – that single language being his own, natch. Why would a person who believes that "English is … the one language that you must have" bother learning any other? While his love affair with English allows that "[t]here is absolutely nothing wrong with studying any language as a hobby or mental discipline," only Chinese, Arabic, and Spanish make the cut. French is diminished to "a beautiful language," apparently on a par, in terms of impracticality, with Sanskrit.
Is it worth learning French?
Well, is it worth learning any language? The answer is, without a doubt, yes. Should that language be French? That depends – do you want to travel or live in a French-speaking country? Do you hope to work for an international organization? Would you like to watch nouvelle vague movies and read romans naturalistes in the original French? Are you interested in getting a deeper understanding of English etymology? Do you just love the sound of it? If the answer to any of the above is yes, then why not learn French? It doesn't matter what Paxman or McWhorter—or Lawless, for that matter—says about usefulness, influence, or anything else. Learning a language is about how it benefits you, not how it may or may not benefit the world.

References
1 Paxman, Jeremy. Voilà, English Wins in the Battle of Global Tongues. Financial Times. 7 April 2016
2 McWhorter, John. Let's Stop Pretending That French Is an Important Language. New Republic. 2 February 2014
3 Lewis, M. Paul, Gary F. Simons, and Charles D. Fennig (eds.). Ethnologue: French. SIL International. 2016
4 Gobry, Pascal-Emmanuel. Want To Know The Language Of The Future? The Data Suggests It Could Be… French. Forbes. 21 March 2014
5 MIT Media Lab. Global Language Network. 2014
—–
Thanks for reading! For French learning tips, follow Kwiziq on Facebook and Kwiziq on Twitter.