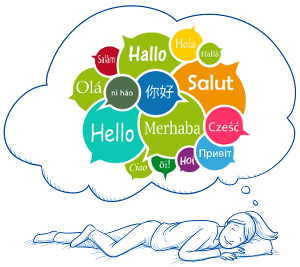 People often say that dreaming in a foreign language is a sign of fluency, but is it really? The short answer is "No."
The long answer is "No, but it's certainly a good sign."
The purpose and meaning of dreams have been debated for centuries, and will undoubtedly be debated for centuries to come. But one thing is certain: dreams are created from our thoughts – from memories, desires, internal debates, and unresolved anxieties. So it makes sense that when we put effort into learning a language, that language will make at least an occasional appearance in our dreams. However, just as the fact that we can fly in our dreams doesn't mean we can actually fly, having a dream in French doesn't automatically mean that we're fluent.
I dream in French sometimes, which I speak fluently, and in Spanish, which I don't. I occasionally dream in Italian and Arabic, two languages I've dabbled in. Several years ago, I went to Greece and took 12 hours of classes over the course of four days. By the end, in real life, I could have a two-minute, barely A1-level conversation, yet I dreamed in "fluent Greek" every single night of the three-week trip. I've also dreamed in languages that I don't speak at all, like Polish, Russian, and German. While this clearly means that I've got a lot of language on and in my mind, it just as clearly means that fluency is not what determines the language of dreams. Many other language learners report similar experiences.*
And of course, there's another wrinkle: dreaming in a language one doesn't speak raises the question "how do you know if it's really that language?" If you can remember the actual words and run them by someone who speaks the language, you can find out – Mark Biernat* has an interesting anecdote about that. Otherwise, there's no way of knowing. Maybe your brain has stored some phrases you heard once upon a time, or maybe you just think it's that language. Who knows?
The bottom line
The idea that dreaming in a foreign language means that you're fluent is a myth, but your dreams of learning French don't have to be! Create your Kwiziq account, set some short- and long-term language goals, and start turning that dream into a reality.
*Further Reading