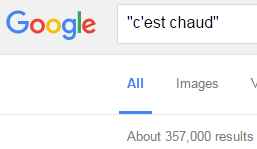 When you're not sure about your French phrasing, a search engine can be a quick and dirty tool for getting a sense of whether you're on the right track.
It's not foolproof by any means, but if you search for a short phrase and find fewer than 100 results, it's a pretty good bet that either you've invented a completely new concept or that your French is wrong.
On the other hand, if you find hundreds of thousands of results, your phrase is potentially correct – but be careful! There are some caveats.