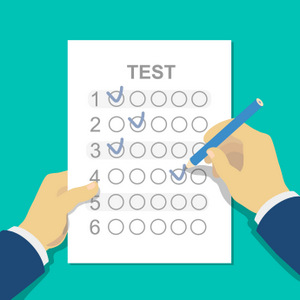 There's an exciting – and growing – body of research being published that backs the learning benefits of taking regular "low-stakes" French tests (quizzes).
In May 2011, researchers[1] investigated the effects of quiz frequency and placement, and found that students who took regular low-stakes tests performed up to an incredible 25% better in exams than those who didn't.
Just six months later, the same group published more research[2], this time investigating whether these effects were enduring. Their conclusion:
Once again, we found that quizzing of material produced a positive effect on chapter and semester exams. These results show the robustness of retrieval practice via testing as a learning mechanism… Our results add to a growing body of evidence that retrieval practice in the classroom can boost academic performance.
In other words, the benefits of testing regularly are long term: they last.
How to power up your learning with Kwiziq French tests
Learning a second language like French is a huge endeavor and, if you're to succeed, you need to arm yourself with the best learning tools available. This doesn't just mean resources, but also learning techniques, and taking regular French tests is one that can really benefit your acquisition and recall of the language. If you're serious about learning French, and you want to learn and practice without having to study boring grammar books, then you'll love Kwiziq's test-driven learning system with its powerful continuous improvement cycle.
To get started, take our French level test, which will give you a rough estimate of your grammar knowledge according to the CEFR standard. Then, you can start to work on your language skills by taking our French kwizzes, which are focused, smart, and dynamic. What does that mean? Well, Kwiziq analyses what it knows about what you know (and what you don't know, and what you may be getting wrong without realising it) and then dynamically creates a new test to help you fix those mistakes and – when you're ready – move on to more advanced topics.
You receive corrections after every test, and Kwiziq produces personalised lesson plans for you too, with links to multimedia lessons. You can choose how to improve, whether that's learning by example (just keep taking the tests until you get the answers right), studying the lessons, or a mix of both.
So what are you waiting for – take a French test with us!
References
1 McDaniel, Mark A et al. "Test-enhanced learning in a middle school science classroom: The effects of quiz frequency and placement." Journal of Educational Psychology 103.2 (2011): 399.
2 Roediger III, Henry L.; Agarwal, Pooja K.; McDaniel, Mark A.; McDermott, Kathleen B.
"Test-enhanced learning in the classroom: Long-term improvements from quizzing." Journal of Experimental Psychology: Applied Vol 17(4), Dec 2011, 382-395.
—–
Thanks for reading! For more French learning tips, follow Kwiziq on Facebook and Kwiziq on Twitter.