"Jeanne d'Arc" has been shared to the blog from the French reading exercises section of the learning library where you can find a large selection of interactive texts to help you with your reading skills. This article also has audio for you to practice your French listening skills; you can find many more listening activities in the French listening practice section.
---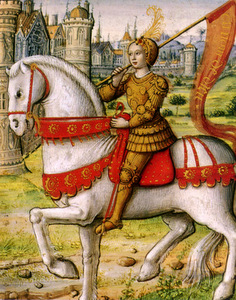 Jeanne d'Arc is one of the most famous women throughout French history. Listen and then read our bilingual article, the third in our series of Portraits français.
Note: The tenses in this French article and its English translation don't match! In French, we use the present tense to describe historical stories like this to evoke a sense of immediacy, whereas in English, we commonly use the past tense – learn more about historical French tenses.
More about Jeanne d'Arc