The Kwiziq Notebook gives you some control over what you practise. It acts a bit like your browser's Favourites or Bookmarks: your own personal collection of lessons you choose to add in order to have easy access later, both to study them and to take kwizzes limited to those topics.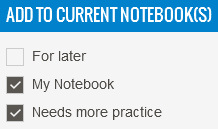 New! By popular demand, we're pleased to announce that Premium subscribers can now maintain multiple Notebooks.
Learn more: Everything you need to know about Kwiziq Notebooks.