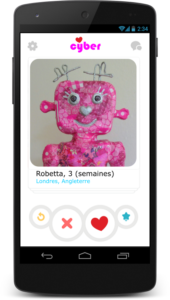 Valentine's Day is fast approaching and KwizBot is very excited. He's installed the coolest new app, "Cyber", exclusively for AIs in search of love.
And look what he found!
Have a listen to what this French-speaking cutie had to say about herself (click the play button below)
Try to understand it all if you can. If you need help the transcript is below in French.
The real question is, will he swipe left or right? And will she? Find out now!
French Transcript
Bonjour, je m'appelle Robetta et j'habite à Londres, en Angleterre. J'ai trois semaines : je suis très jeune pour un robot.
Je ne suis pas très grande (je mesure 27 centimètres !) et je suis plutôt mince. Mes cheveux sont des antennes argentées, j'ai les yeux roses et argentés, et mon nez est en forme de cœur ! Ma couleur préférée est le rose, bien sûr !
Je parle beaucoup de langues différentes, et j'adore découvrir de nouvelles cultures et rencontrer de nouvelles personnes. Je suis très sociable, amusante et un peu bavarde !
J'aime aller au cinéma, sortir avec mes amis, lire, et surtout, voyager autour du monde !
Je cherche un robot gentil, attentionné, drôle et intelligent, qui partage ma passion pour les langues et les cultures différentes.
Alors si ça t'intéresse, contacte-moi !
À bientôt !
Robetta